So you're nearing the finish line, maybe you've already handed up your projects and done your assessments, or maybe you just have one more exam to go. Whatever the case, here are a few things to do in Dublin after you've finished up and still have the lease on your house!
Happenings Open-Air Cinema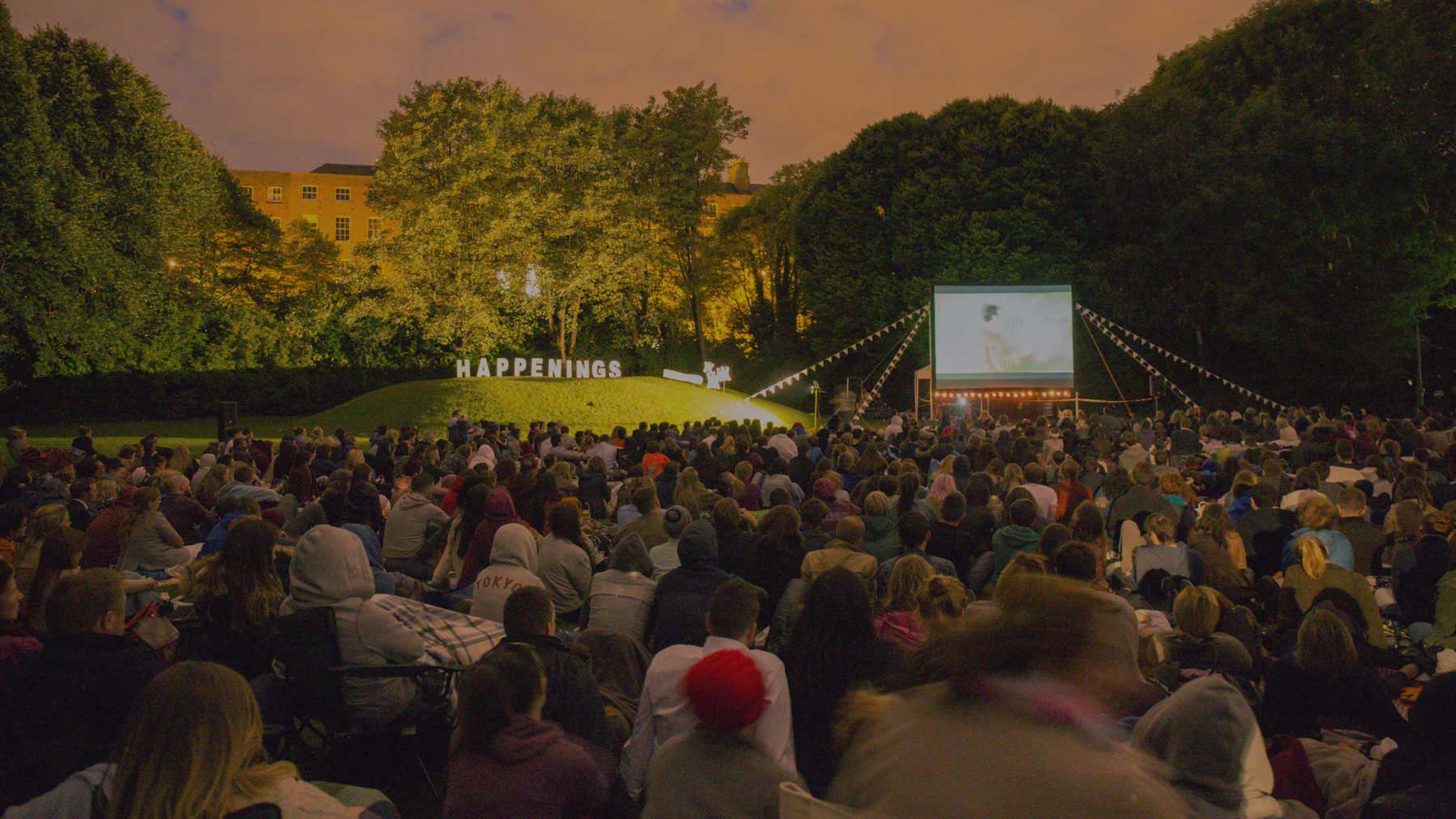 Happenings are launching their season of open-air cinema with a special screening of Back to the Future. On May 18th, they'll be gathering in the lovely surrounds of Merrion Square, enjoying an amazing movie, live music performances and fun activities. Warm, weatherproof clothing is strongly advised due to our temperamental Irish weather and there will be some seating provided, you should bring your own if you don't fancy sitting on the grass. There'll be food, coffee and other goodies available on the night. Gates are open from 7.00pm with the film kicking off when the sun goes down (10.00pm)
Tickets are €5 and are available here.
Fusion Sundays: World Culture Market
Fusion Sundays is a world culture market hosted at the Dublin Food Co-op in 12 Newmarket Square. They aim to provide a space for people from different ethnic backgrounds in Ireland to share their cultural diversity with stalls from around the world, selling a range of handmade goods, arts and crafts, recycled products, jewellery, clothes and food. They also run interactive workshops, have live music, dance and activities for children. The Market takes place every second Sunday of the month, from 11am to 5pm, and the next one is on the 14th of May.
Dublin Port Riverfest
This June Bank Holiday, North Wall Quay will once again play host to the Dublin Riverfest.
Dublin Riverfest 2017 stretches the River Liffey from the Ha'penny Bridge in the heart of Dublin City right out through Dublin Port and into Dublin Bay with a variety of exciting activities and events. There will be a jam-packed schedule of on-the-water displays and entertainment in the festival area including international tall ships, jet pack displays, sailing races, dragon boat racing, powerboat displays and racing, pilot displays and more. Also, the famed famine ship Jeanie Johnston will once again be offering free tours over the course of the weekend. On land, activities will also play an integral part to the festival, with street performers, zip lines, rock climbing, music, carnival attractions, face painting and children's art and circus workshops. Riverfest runs from 12-6pm from Saturday the 3rd of June until Monday the 5th, and general admission is free. More details at dublinportriverfest.com
Temple Bar Night Market
Now, this event could be considered a fantastic idea or a terrible idea, depending on how you feel about spending money after you've had a few drinks, but you have to admit it's a great marketing technique. The Temple Bar Company runs an Arts & Crafts night market in Dublin's Cultural Quarter every Wednesday from 2-8pm, beginning on the 10th of May and running until September. You never know what kind of knick-knacks or statement pieces of jewellery you might find, it could be the perfect addition to your festival look this summer!
Dublin Bike in Phoenix Park
If you've always wanted to take a city bike, but like me, are absolutely terrified of getting hit by a bus or a taxi on our crazy roads, then why not take a Dublin Bike to Phoenix Park? The park is Europe's largest enclosed city centre park. With 5.5 miles of bike path, deer, the Zoo, the Irish President and the US Ambassador's home all housed inside this park you could happily spend a few hours cycling about. Sign up and find your nearest station at dublinbikes.ie for some fresh air and exercise in a gorgeous setting.
Whatever you do this summer, stay safe and enjoy yourself. It's been a long year, and we look forward to seeing all you returning students in September. For those of you who are graduating this year, we wish you the very best of luck in all your endeavours, make us proud!
4th Year student of Design & Visual Communications and College Officer for Grangegorman 2018/19! It's pronounced paw-leen, if you're wondering.